August 18, 2011
Elizabeth Butters will be performing live at the Philadelphia Folk Festival this Sunday! Lobby Stage, 1:15pm. Record signing will follow; meet her and have some chats at 3pm! More info on the other side of this link.
August 17, 2011
Stumps the Clown's full-length LP, "I Miss My Soul," has been spontaneously digitally released via Top Magic Records digital distribution. Now available on iTunes and Amazon. New Orleans acoustic clown blues. Catch him live on Frenchmen Street in NOLA and he'll tell you right quick how to make a friend for life.
July 5, 2011
Top Magic Records' products are now available at Stinkweeds Records> in Phoenix, Arizona!
May 7, 2011
We are pleased to announce Elizabeth Butters' appearance at the 50th Annual Philadelphia Folk Festival this summer! Read more about it here.
March 2, 2011
Well, they got the name of this label wrong, but the article is still pretty kick-ass. Check out Kelly's project with the equally excellent Aran Ruth here. WICCANS!
You can see Kelly AND Aran play, along with two of our other favorite Detroit groups, Gardens and Sugarcoats, at the Hamtramck Blowout on Friday, March 4 at the Belmont. Facebook info here.
January 27, 2011
Motorcityrocks.com's Ethan Milner gives the Kelly Jean Caldwell 7″ a glowing review. Check it out here, or on the media page.
January 26, 2011
Upcoming shows from Top Magic artists!
Saturday, January 29: Kelly will be playing this event live at Park Bar in downtown Detroit this Saturday. Records will be available! Detroit legend Rodriguez headlines.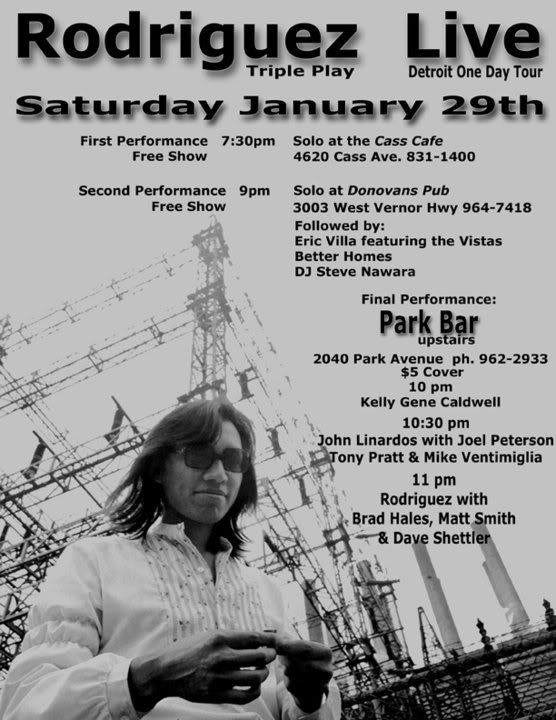 Friday, February 11: We also highly recommend those of you in the area attend this upcoming reunion of Henry & June at the Magic Stick in Detroit! Danny Kroha and James Leg open. Nothing gets more Rust Belt blues than this. CDs and a multitude of amazing merch will be available from our friends at Danger Limited.
Friday, February 19: And for those of you on the eastern seaboard, Elizabeth will be gracing a good time house show in Brooklyn. Details available here. No creeps allowed.
January 13, 2011
We have joined the multitudes. Fan us here on Facebook if you'd like to see TMR updates on the ol' News Feed.
January 5, 2011
Kelly's songs are now available on iTunes in the US, Canada, Australia, New Zealand, UK, and Europe! iPod away!
January 1, 2011
Happy New Year! Top Magic Records products are now available at UHF Records in Royal Oak, Michigan.
December 23, 2010
Top Magic Records products are now available at Encore, Wazoo, and The Underground record shops in Ann Arbor, Michigan.
December 20, 2010
We had a nice, good time at Atlas Bar on Saturday! Thanks to everyone who came out. Check out Kelly and the fellas performing their B-side, "Diamonds," at the show:
If you weren't able to make it, the 7″ is now available for sale on the "buy" page of this website, as well as on iTunes in the US, Canada, Japan, UK, continental Europe, and Australia for the more technologically inclined. Sorry, Mexico.
It will also soon be available in some of the finer shops in the metro Detroit area. We'll let you know which ones pretty darn soon.
December 15, 2010
Kelly answers five burning questions in this week's Metro Times in anticipation of her 7″ release show this weekend! Check it out here. Thanks to Travis Wright.
Elizabeth is also featured in a rather lengthy interview on the Exploit Boston music website this week. Find out more about her penchant for murder ballads, her college years, and her other, secret talent. Check it out here! Thanks to Steven Ford Brown.
December 7, 2010
We gave our friend Jeff Milo over at Deep Cutz/Real Detroit Weekly a sneak preview of Kelly's single. He wrote up a nice, glowing review! (NO PAYOLA, even). Check it out here.
November 23, 2010
Kelly's 7″ release show is at the Atlas Bar in Hamtramck, Michigan on Saturday, December 18! We would love to see you there!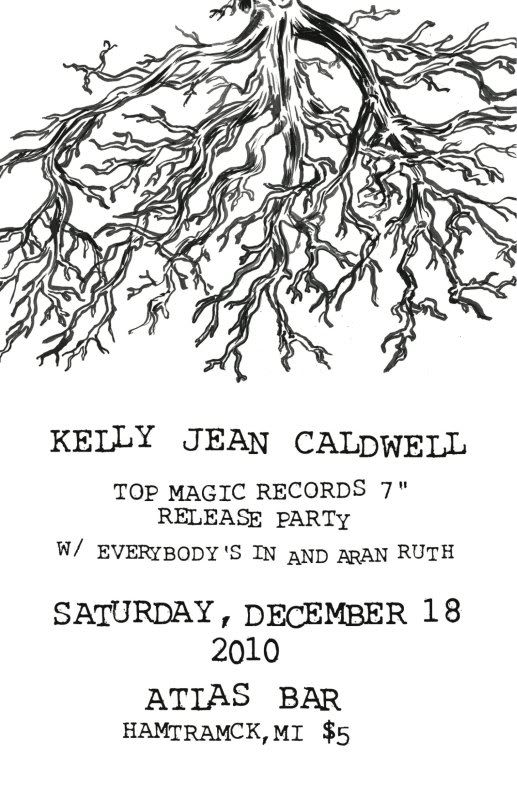 November 10, 2010
We dug deep into the archives for this one. Listen in on the mildly primitive stages of the TMR proprietor's friendship with Elizabeth from our fondly recalled, and always awkward, days of college radio. Not included: the phone call from a Brown University professor inquiring about Ms. Butters' age and guessing she not to be a day over sixteen.
October 31, 2010
HAPPY HALLOWEEN FROM THE BUTTERS SISTERS AND TOP MAGIC RECORDS!
October 26, 2010
Hello, Oxford, Mississippi! Elizabeth's record is now available at your fine Square Books retail outlet. A real hip store.
October 22, 2010
Attention, Memphis! Elizabeth's record is now available at your fine Goner Records retail outlet.
September 16, 2010
I should really update this thing more often! We've been chugging right along here at Top Magic HQ. Thanks to everyone who has bought Elizabeth's record so far, and remember that her sweet songs are now also available in mp3 format on iTunes and Amazon.
I am also pleased to announced that one of Detroit's finest female vocalists, Kelly Jean Caldwell, has joined the Top Magic roster and will have a 7″ out before the end of the year. The featured songs are "Outside Heart" (A-side) and "Diamonds" (B-side). More on that soon!
Also in the pipeline: Dooley Wilson's solo album with Top Magic has a projected release date in early 2011. To tide yourselves over until then, check out this fantastically shot video of Dooley with his cohort John Roundcity performing live in Toledo last November:
Dooley Wilson at Mickey Finns from Giles Cooper.
July 16, 2010
We are pleased to announce that Elizabeth Butters' debut album is now available on iTunes in the US, Canada, UK, EU, Australia, and New Zealand!
June 1, 2010
Well, we're a bit late on the uptick with this one, but still wish to extend thanks to one of Detroit's best music writers, Jeff Milo, for his nice review of Elizabeth's record in the April 28 issue of Real Detroit Weekly.
"Swaying waltzy tempos, the provincial mysticism of a singing-saw's howl and the tin pan clattering of a banjo that can coax a curlin' smile. This East Coast-based songstress (age 19) seems transported straight from the gravelly roads of 1930s American Folk, with dust-blown suitcoats and pedal picking. Her timorous voice, combined with vernacular-nodding contractions, is heavy on the back-to-the-Old- World thing but should fit well with lazy summer afternoons."
Elizabeth may like you to note that while she remains youthful in appearance, she is no longer actually nineteen.
April 25, 2010
Elizabeth's Detroit LP release was great fun! Thanks to all who came, and sorry if we missed you. For those of you who couldn't make it, here's a video of "Sassafrass." Elizabeth was accompanied by our very good friend Danny Kroha for her set.
Thanks especially, also, to The Sisters Lucas and Kelly Jean Caldwell for opening the night! Look for a 7″ from KJC out on Top Magic later this year!
April 15, 2010
Elizabeth's LP release show is featured in this week's Detroit Metro Times Night & Day section! Check it out here.
SUNDAY APRIL 18
Elizabeth Butters LP Release
HOME SWEET APPALACHIA
Brooklyn's Elizabeth Butters in an anachronism, a 21st century city girl who should have been born in 1930s Appalachia. She plays traditional American music from pre-war days, folk blues that she sings with sweetness and simplicity, strumming her dulcimer and performing in period attire with a stately grace that nullifies any accusations of shtick or pastiche. This show celebrates the release of Butters' debut LP, available exclusively on vinyl of course, and the launch of new local record label Top Magic Records. The Sisters Lucas, Danny Kroha and Kelly Jean Caldwell open. Doors at 9 p.m. at Cliff Bell's, 2030 Park Ave., Detroit; 313-961-2543; $5.
April 8, 2010
Midwestern legends "Henry and June," featuring Top Magic Records' own Dooley Wilson, reunite this Saturday for their first show in fourteen years. Read all about it at Ryan Bunch's toledo.com article.
CDs, T-shirts, recordings, knicknacks are all available to those not within Toledo traveling distance by sending lead singer Jimmy Danger copious amounts of money via Paypal. More details available at the group's Facebook page.
April 2, 2010
Our friend David Day at the Weekly Dig reviewed Elizabeth's record last week! Check out his review here.
March 28, 2010
Elizabeth's Rust Belt record release show and Top Magic Records launch party is at Cliff Bells in downtown Detroit on Sunday, April 18. We would love to see you there!
March 16, 2010
Missed the show in New York? You're in luck; we had a professional film crew there! Video courtesy of Down Home Radio Show and Chi Productions.
March 10, 2010
Elizabeth's record release show is at the Jalopy Theater in Brooklyn, NY, this Sunday, March 14! We would love to see you there!